We may earn a commission on purchases made after clicking links on this page.
by Ed
When
Saatva
reached out to us to see if we would like to test and review one of their mattresses, we were excited. We had already chosen them as the mattress company we wanted to try out - we were drawn to some of their fabulous features.
We also knew exactly who would get to try it out: the child we had failed for years and didn't know it.
Sometimes we screw up as parents...
But this time we can't take all the blame. Our teenage daughter needs to self-advocate more too!
For the past... decade? Maybe longer? She has been sleeping on a (very cute) antique spindle bed frame that squeaks every time she turns over. PLUS she's been sleeping on a mattress that gave up and turned into something more like a thick hammock. PLUS, as she's now taller than her tall mother - her feet were dangling over the end.
Not great. Not even good really.
When we finally realized that our little girl, who is a tall teenager now, was spending her formative years sleeping in a squeaky, saggy, short bed - we needed to do something about it. And Saatva's offer came at the perfect time.
If you're new to
Saatva
, they are an online mattress/bed/frame company that features both pocket coil and memory foam mattresses. They are extremely well reviewed and - lucky for us - operate both in the United States and Canada (where we sleep).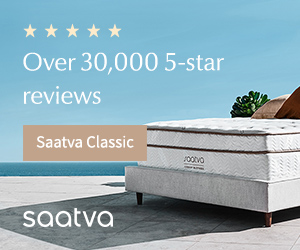 So, here's what we chose and why:
The Twin XL is the perfect mattress for teens.
What! We didn't get our daughter a queen sized bed? Like almost everyone, our bed choices are limited by the space our bedrooms have. Our daughter's room could've held a full-sized mattress, but she wanted the extra space for a desk and preferred floor space to more bed.
The
Saatva
Twin XL is a genius option for any family with growing teens but without lots of bedroom square footage. It is the same width as a twin, but as long as a queen-sized bed. No more feet hanging over the end!
Our daughter prefers her bed tucked under the angled wall in her room. It's cozy. But, it doesn't allow for a headboard and the angle of the wall takes up some of the precious length she needs.
The angled roof-wall (and the pile of pillows) takes up a chunk of space - The Twin XL leaves room to spare so our kid's feet don't hang out the end either.
Saatva has Pocket Coil Mattresses, not just memory foam.

Some people love and swear by memory foam. Not us.


We are a family that runs hot, especially our daughter and Robin. We've purchased memory foam mattresses before and regretted it - they trap heat and we wake up sweaty.


Also, sometimes, the memory foam memorizes too much. Before long they stop holding their firm shape, which is bad for comfort.
We are big fans of pocket coil mattresses. Many online mattress companies only give you a memory foam option because they are cheaper to ship.
Saatva has both options
, so you get to pick what you actually want, not just what is being offered.
Reasons to choose Saatva mattresses:
They are -by far - the most affordable luxury mattress out there. We don't think good sleep is a luxury. A quality mattress can lead to quality sleep - which we all need - but especially teens who need more sleep to learn and develop well.
Delivered and set up. We didn't lift a finger.
They take your old stuff away. Everything! Old frame, an old foundation (see photo below of boxspring turned cat hideout), old mattress - gone! Also worth its weight in gold for anyone who has ever tried to take an old bed to the dump without a truck.
As a family with insomnia issues - we value sleep and appreciate the health benefits of getting the right number of hours.
This is an area to spend on
- if you aren't getting a good night sleep, it doesn't matter how much money you have - life sucks.
But the real question is - what does our girl think about her Saatva Mattress? She has spent the past 3 months trying it out and has some thoughts:
"My feet don't hang off the end anymore! I love that I have a bed that fits me and my four pillows." The girl loves her pillows.
"My old bed was squeaky and uncomfortable. I like how firm this mattress is - I sleep better and I had no idea how bad my old bed was till I got to try this one out!"
"I love that my bed can be under the angled

wall (where I'm coziest)

and still give me enough room to stretch out."
"This one isn't as HOT as my old one. I hated that before."
Next time we need to buy a mattress, we plan to buy another Saatva. (And we're happy they helped us be better parents to our growing kid! )
If you have a lousy bed in your house, you owe it to yourself to take a 4-month test drive too!
* contains affiliate links