We may earn a commission on purchases made after clicking links on this page.
By Robin
Knitting Ed a
Pac-Man
scarf came to me after looking at some old early video game images and realizing how well the digitized characters would lend themselves to a stitch based craft.
I am charmed by the combination of old world handcrafts and retro 80s themes. And my husband is the right kind of guy to appreciate it. He's very proudly nerdy.
If you've seen my post about the
Harry Potter scarves
I made my kids you may be wondering if I have some sort of fixation on novelty scarves.
Yes I do.
I find knitting fun scarves really rewarding. You can have really mediocre knitting skills (like I do) and still make something that feels special and unique.
The other big payoff from knitting scarves is that your recipient can wear it every day (cold weather permitting, of course). They can get days and days of enjoyment from one project.
If I were to knit a Pac-Man sweater for my husband, and he were to wear it every day, it would get pretty rank and he would be mocked by his students.
Get the picture? Novelty scarves = funny + quick - skills = big pay-off.
Clearly, I wasn't the first person to think of this idea. For this, I am thankful, because I am a pretty basic knitter and have never designed a knitting pattern.
Below is the awesome inspiration pattern that I found online. In retrospect, I wish I had followed the designer's method a little more exactly. If I were going to make this scarf again, I would do that.
I won't even attempt to let you know how I knit this, I wouldn't want to lead you astray. (For example, my scarf has a "wrong-side", which makes it fussy to wear if you don't want it to show.)
You can find better instructions than I could give
here
.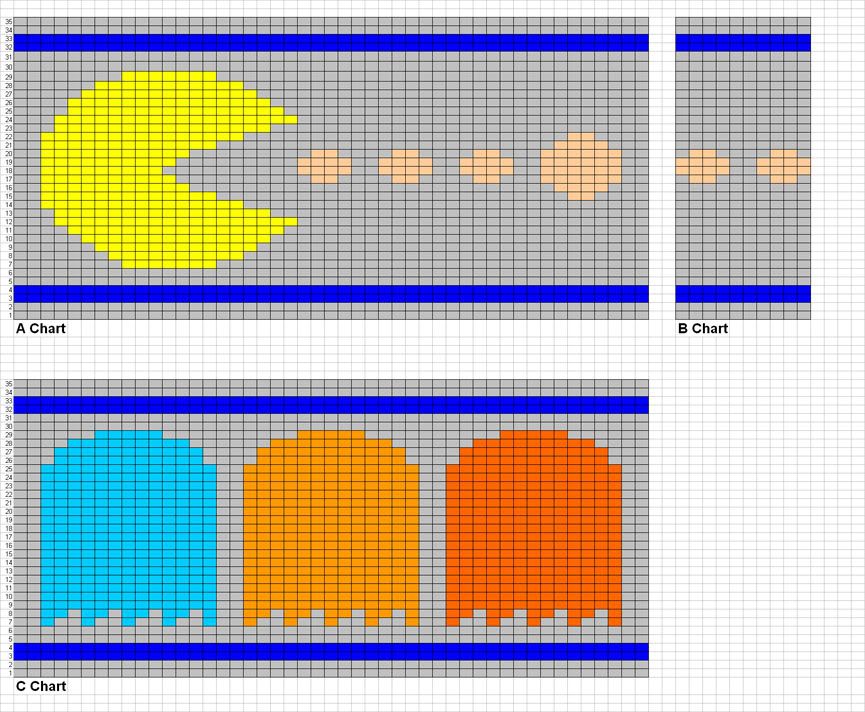 I had debated running the Pac-dots along the entire length of the scarf but decided not to. This way if Ed wanted to disguise himself as a non-nerdy guy, he could tuck Pac-man and the ghosts away in his coat and no one would be any the wiser.
I love how the ghosts turned out. I modified the original plan for the eyes. I did the ghosts' eyes with buttons. I used some inexpensive, basic buttons and sewed them on in pairs, one on the front and one on the back. I love their look of fear, just how I remember the video game after Pac-man eats the Power Dot and they start scurrying away.
Hmmm...now what can I make that's Space Invaders? Needle-point throw pillow?
For more of my super duper simple knitting ideas (they're all fun) click here.