We may earn a commission on purchases made after clicking links on this page.
Intro by Robin – Steps by Ed
I adore our modern wood DIY floating vanity! It is one of my favourite projects!!!
It's that sweet spot where we can figure out a way to make something in an affordable way – that's also super simple – and turns out beautifully. If you know us, you know we've shared lots of these in the past.
First some background.
This fall we took a closet in our basement – with no rough-in or any plumbing – and with the magic of DIY, we turned it into a basement bathroom.
This before and after is pretty dramatic: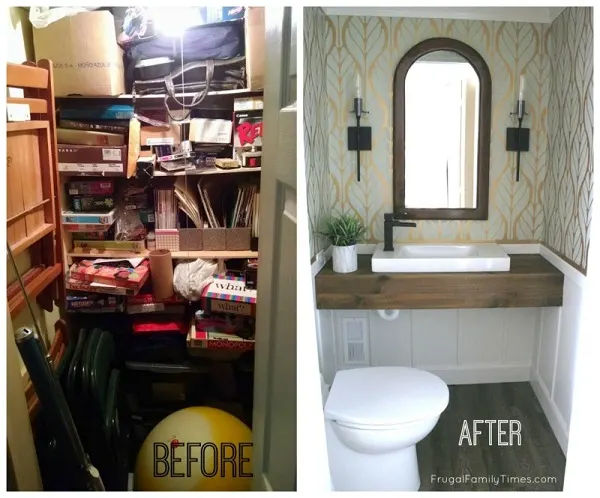 There was a mountain of challenges. One was the tiny size of the space.
It's a mere 44″ x 43″.
And – to make the install extra fun for Ed – I had very particular ideas of how I wanted the room laid out.

My vision was to give it a dramatic feel as you open the door – I wanted the beautiful sparkle of lights and a tall dramatic mirror – not a toilet – facing you.
It wasn't the easiest layout for his part of the job.
Finding the affordable and narrow Hagaviken sink from IKEA paved the way to the design I desired.
Originally we purchased the matching vanity for the sink – but I also demanded a spacious feel – even as we paid for it I wasn't convinced it was right: a vanity with legs to the floor would make the room feel congested.
Every inch is sacred. So we returned it.
(An IKEA tip: be sure to sign up for the free IKEA Family program – it doubles the window for you to return stuff for real money – from 45 days to 90 days. We didn't do this – but we still got store credit – so not tragic.)
My solution: a DIY floating wood vanity.

My first vision was of a reclaimed beam – until I scoured a couple of reclaimed materials shops. The depth I needed – about 16″ – just wasn't easy to find.
Plus, the gouges and bumps in reclaimed boards didn't seem like the easiest thing to keep clean. And it is a bathroom after all – cleanliness kinda matters.
Then, in one of the shops light bulbs floated over my head. I saw this display…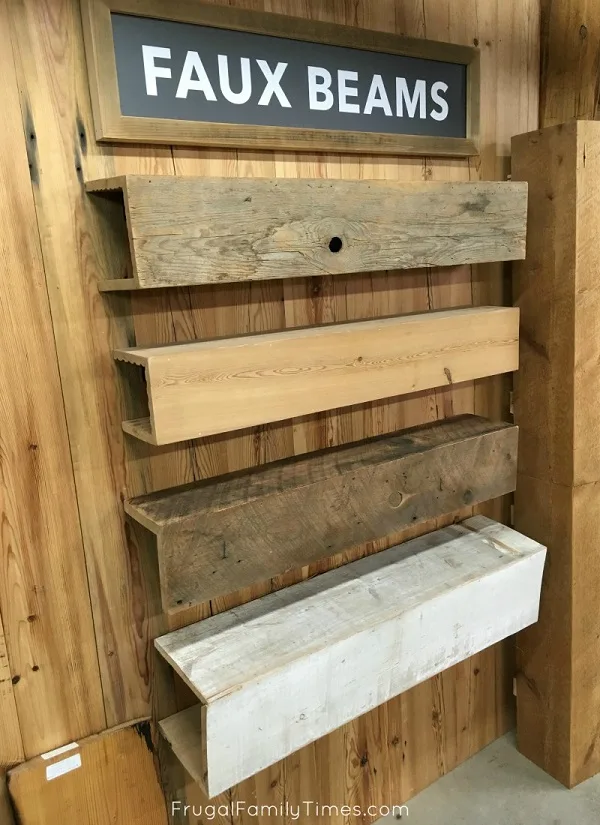 I chatted with the manager to see what the cost would be for them to make the size I was looking for. I tried to be classy and not let my jaw drop or gasp when he said: $400-600!
So instead, I figured out how we could make our own wood floating bathroom vanity – that looks reclaimed – on a tight budget: just $30!
How to Build a Wood DIY Floating Vanity
For Less than $30 (an IKEA Hack!)
What you need to build a modern wood DIY floating vanity:
1 – 16″x96″ Whitewood panel
2″x2″ or 2″x4″ lengths to secure to walls and support the vanity
Table saw or circular saw that can be set to rip at a 45-degree angle.
A plumbing drain and water supply rough in that are as high as possible without interfering with the vanity height

We did this ourselves as we were doing the whole room from scratch. It isn't a big deal if yours is already roughed in – it just means some of the plumbing might show more.

Wood glue & screws
The supplies for the finish of your choice (Ours was a DIY finish – from things around the house – that cost us pennies! All the details here..)
Ikea Hagaviken Sink
Delta Ara Faucet (which Delta generously gave us to use.)
How Do You Make a Floating Vanity? The Steps:
The Hagaviken Sink is nearly 14″ deep. So we decided that we wanted a vanity that was only a little bit deeper – hence the 16 (actually 15-3/4) whitewood.
Our bathroom is also only 44 inches wide. So the 96″ board means we can cut it in two and use half for the top of the vanity and the other half (ripped down slightly) for the apron.
If your sink/bathroom dimensions are different, then you might need more or less whitewood.
Step 1: Cut the Whitewood to width for your Vanity/Room
Ours became two 44″ halves. You'll want to wait to cut the depth for when you've got the mitre just right.
Step 2: Mitre the lengths to 45 degrees
We then mitred the long edges by tilting the table saw blade to 45 degrees.
This can be done with a circular saw too, but you'll want a guide on it to make sure you keep it straight.
For the table saw, two people made sure the board passed through straight.
We can't say enough about using a feather board like the one below. It has magnetic dials that allow you to position it perfectly and it can save you a lot of trouble. It gives just the right pressure to keep your cut straight and true.
Step 3: Cut the Boards to the final size you want AFTER you get a good mitre
Step 4: Join the two boards!
Support the joint with a 2″x2″ from behind and glue, predrill and then screw through it into the two boards.
Don't be cheap with the wood glue – you want this to stick and you can use a damp cloth to wipe off the excess.Get the mitre as tight as possible. You don't have the luxury of wood filler to hide your sins, as it will be revealed by your finish (unless you plan to paint the vanity – then your mistakes will be hidden).
Take your time and be sure to wipe up any glue that squeezes out immediately too – yes, it's worth mentioning this twice.
Step 5: Sand and Finish
Our antiquing process merits a separate post – it's so cool – it cost just pennies and used stuff from around the house. Read all about it here!
Step 6: Install floating wood vanity
How do you secure a floating vanity? Here are the details…
Step 7: Cut a hole for the Sink
Step 8: Install the Faucet
Delta provided us with this dream faucet.
We like that it looks a bit like an old-time water pump and it is so solid and well made, it feels like the perfect final touch on this project.

And the waterfall – both soothing and dramatic. Perfection.
Step 9: Connect the plumbing!
All the Basement Bathroom Room projects are here…
The next room we tackled was our Basement Guest Room/Library – it's a dramatic one too!
More of our Closet to Powder Room DIY Projects…