We may earn a commission on purchases made after clicking links on this page.
by Robin
We've never had a powder room before. I've always wanted one – they just sound classy – a room just for POWDERING things! How decadent! I hardly know what to powder (my nose? my wig? donuts?), but I wanted to join the powder room club.
But beyond that silly thought – I've often admired the advice from decorating shows: the powder room is the smallest room in your house – treat it like a jewel box – you can splurge on an expensive wallpaper – even on a small budget!
Splurge on a budget!?! That's right in my wheelhouse.
Last month when we turned closet (with no rough-in!) into a basement bathroom I was thrilled to follow that advice.
I went searching for the perfect wallpaper – price be damned! I'm making a Jewel Box. After careful searching, I found one I loved. It was this Farrow and Ball Wallpaper. It was going to look lovely: graceful, organic, classic but still modern. I was sold.
And then I checked the price. $350 per roll! I'd need at least 2.
That's $700 just for wallpaper!!! What?!?! That's not going to happen. I couldn't even afford enough of this wallpaper to decorate an actual jewel box.
So, it called for some creativity. And after some searching, I came up with a much more affordable alternative – which I love even more! Home Depot liked my idea too and gave us a gift card to cover our costs!
Our project turned out more beautiful than I even pictured.
Here are the details on our budget-friendly alternative to elegant designer wallpaper. It's modern and graceful and soft green and shimmery gold…
Materials:
Metallic Gold Wall Paint
Soft Green Paint

We used Behr's "Wabi-Sabi" Marquee in eggshell
Wabi-Sabi is soft and elegant and after I learned about what Wabi Sabi means I was sold: basically it's the Japanese concept of celebrating the beauty in imperfection. I love that idea!

Painters tape – this one is our favourite (after trying so many duds!)
Small Roller and tray
Small artists paintbrush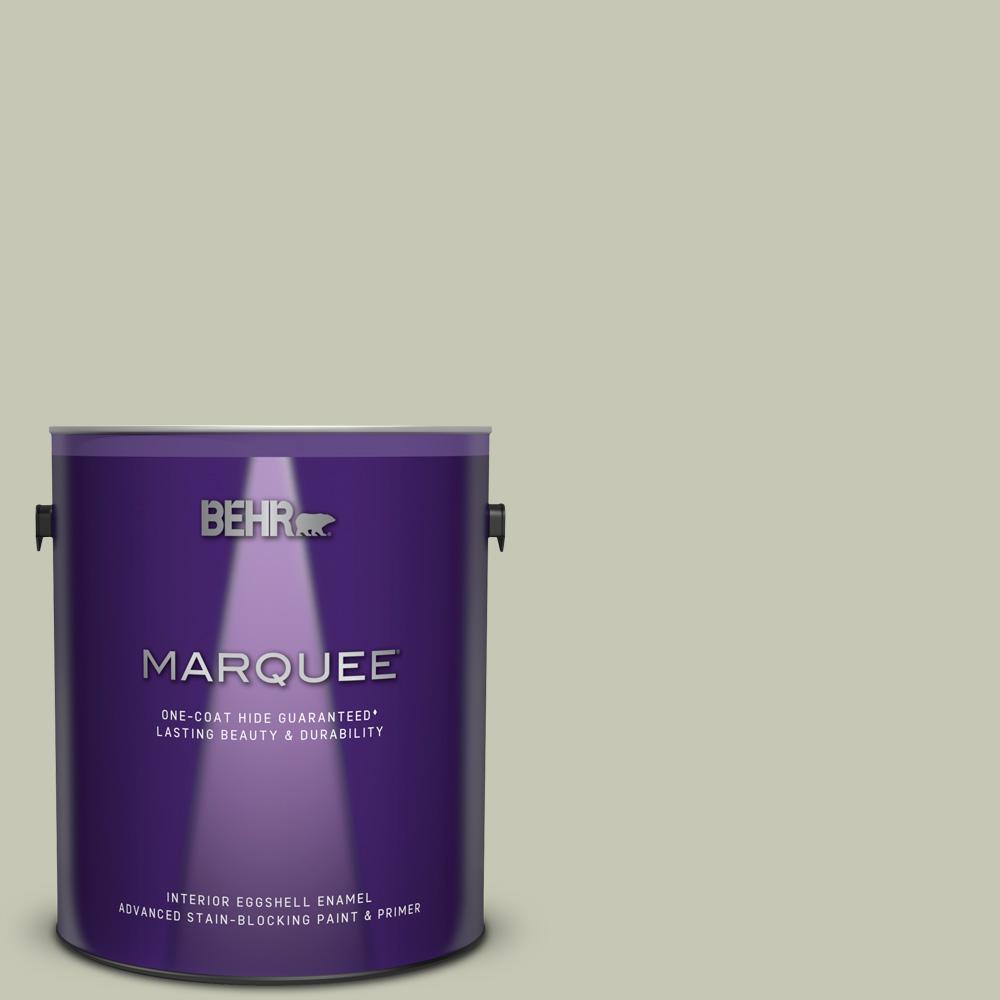 NEW! ⇒ If a Video Tutorial is more your style – scroll to the bottom – we've got a video there for you!
Steps:
What I learned about how to stencil corners:
Watch a video for tips.
I watched this one. (But, know that it is so much harder than it looks! If I'd known how hard mere mortals find stencilling corners, I think I would have been less frustrated with my lack of skill.)
Repositionable adhesive is your friend.
Don't leave the store without it. (Our beautiful large scale design was floppy, a smaller rigid stencil may not require it.)
Line up your stencil pattern on either side of the corner. Paint as close as you can into the corner – and expect to touch up the lines with a small paintbrush afterwards.
Better yet – consider just doing an accent wall!
Then you just tape the wall alongside your accent wall and you won't cry while you do this. (Yeah, this stressed me out tons and I may have teared up from acute stress. But – it was WORTH IT!)
New! Here's a Video Tutorial of all the steps:
For more about how we turned this basement closet into this stylish powder room – keep reading here.
All the details…