We may earn a commission on purchases made after clicking links on this page.
Intro by Robin Steps by Ed
Our DIY faux brick walls look so real! They give our basement pub the exact distressed exposed brick look we were going for – and was really cheap to achieve.
They look like they've been there for decades and give exactly the rustic aged charm and character we were looking for in our basement wet bar area.
But do you remember our plan for our basement pub and hobby room?
This crumbling, aged plaster brick wall treatment was not what we planned. Originally we were going to do a real brick wall.
So why the change?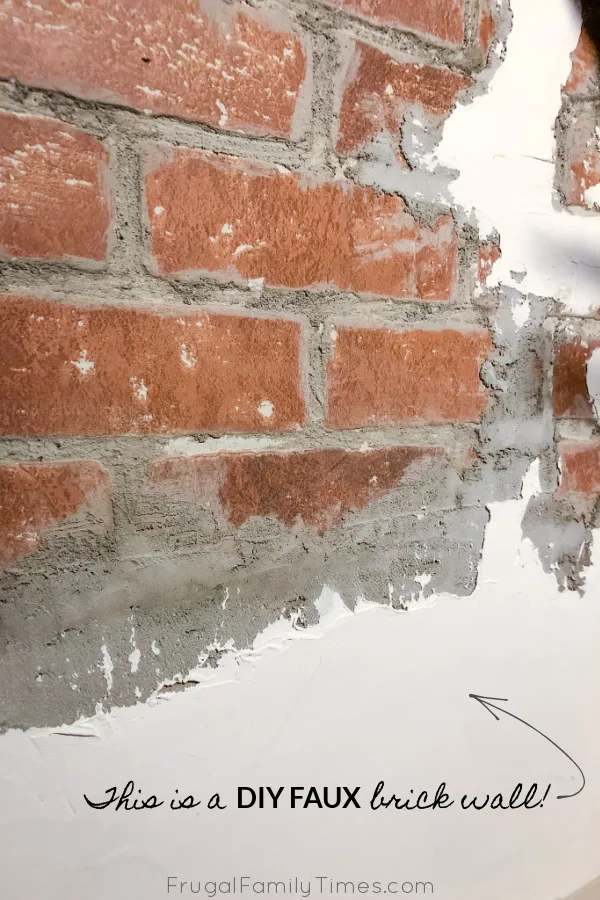 Well, it's the same answer to lots of questions about things in 2020. A little thing called a global pandemic.
With staying a home being mandatory for safety we were not willing to risk driving the hours necessary to pick up the brick tile we found a great deal on. And we weren't willing to pay the price of the only ones we could get locally.
We were stuck.
We considered using the same faux brick method we did in our basement Guest Room Library – you can see how to make brick paneling look real in that room. We also did the same treatment on a faux pillar that's part of our DIY media cabinet.
But I had my heart set on the Chicago brick red colour. I wanted that character and warmth in this room.
I poked around on Pinterest looking for a different kind of wall treatment that would work. It didn't look promising, unitl I stumbled upon these…
Faux Brick Wall Inspiration Photos:
Note: both of these happen to be wallpaper murals if that's more your speed – just know that they won't have the physical texture of our method.
Brick? Check! Warmth? Check! Character? Check!
I showed these photos to Ed and he said, "I've got ideas. Leave it with me. I'm going to try something. If you hate it we can take it down."
He scurried off and happily worked away in the basement. And I fretted constantly hoping I would love it and not need to break his will to DIY.
I didn't love it…at first. I stared at it for days and it didn't sit right for me. I didn't know what to say to him.
But then we figured out what exactly the problem was and how to make the panels of fake brick look real – it was so simple! (Hint: it's the grout lines.) And you'll see that in Step 7 below. So without further ado we present to you our DIY Faux Brick Wall with Plaster!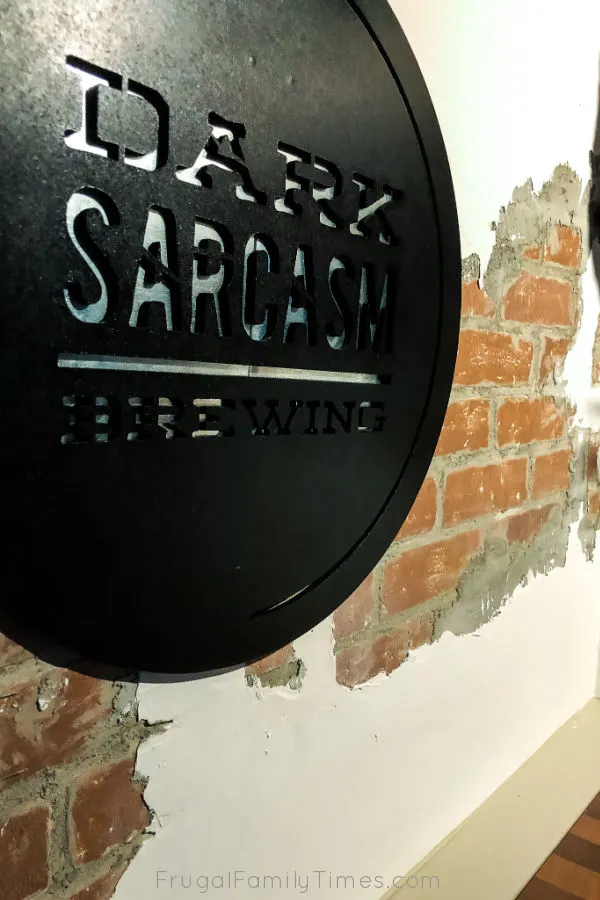 This DIY Faux Brick Wall Treatment was cheap! Here's the cost:
This project was $20 all in for us. We used scrap materials – so we really just bought drywall compound.
If you needed to buy the supplies, here are the approximate costs:
Off cut pieces from a faux brick panel (maybe $30 worth if you had to buy material)
Mortar mix – 1 bag of whatever is cheap and will let you feather a thin edge ($7)
Drywall compound (lots) $20
Other material to fill in around brick (optional, but saves on the drywall mudding) ($15-20)
Misc. nails, construction adhesive ($10)
Total: $87 for a large faux brick accent wall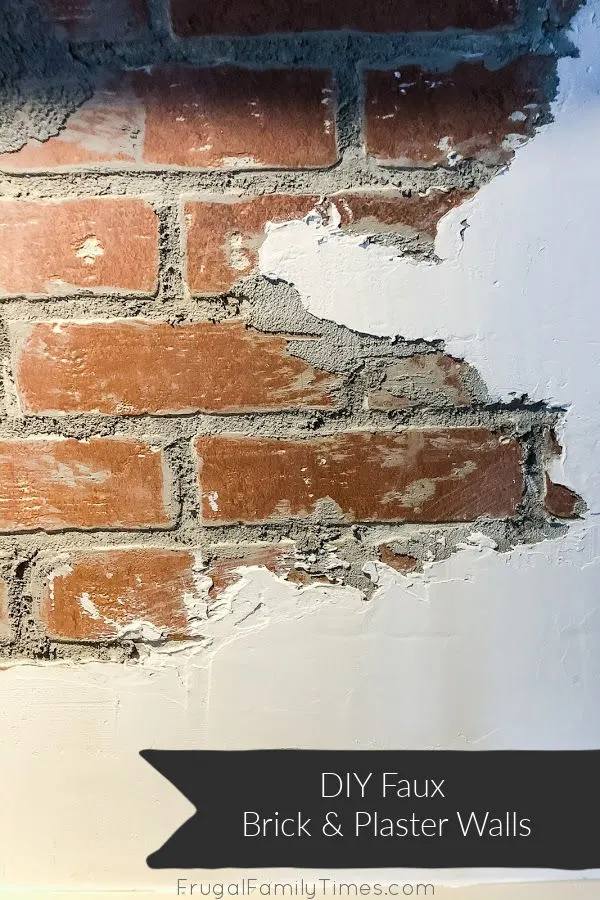 DIY Faux Brick Wall with Plaster Treatment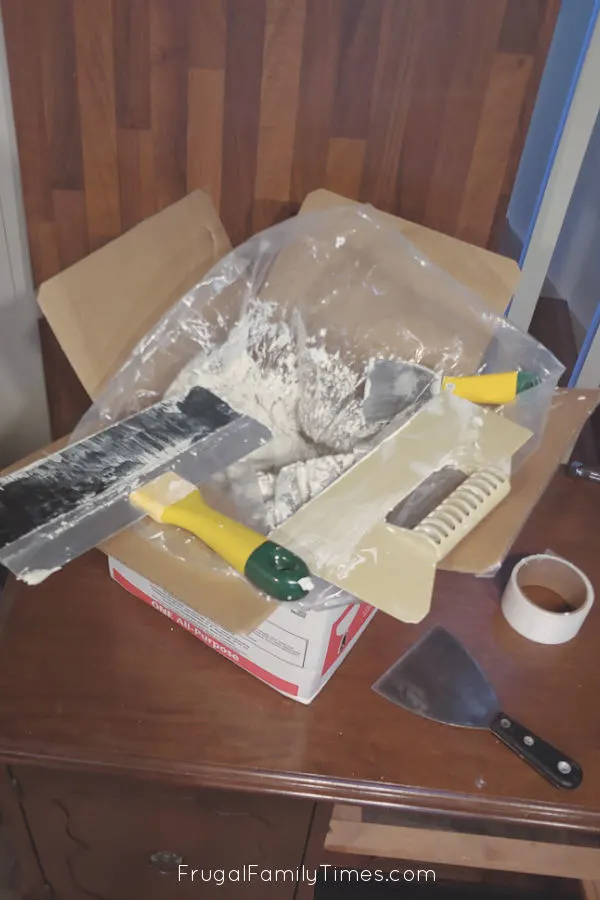 DIY Faux Brick Wall How to Steps:
Step 1: Arrange Your Faux Brick Panel Pieces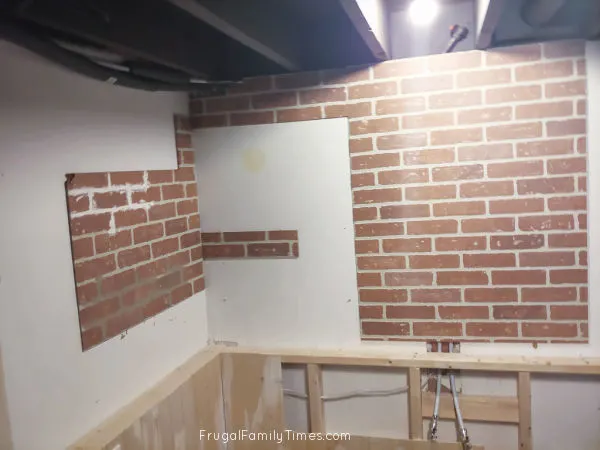 Step 2: Fill in Gaps with MDF Filler Pieces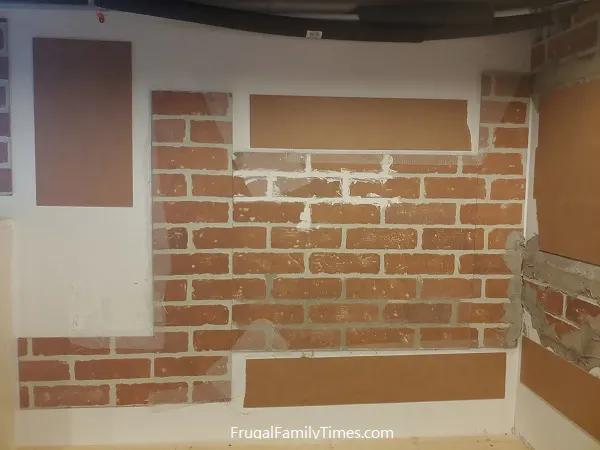 Step 3: Tape Your Seams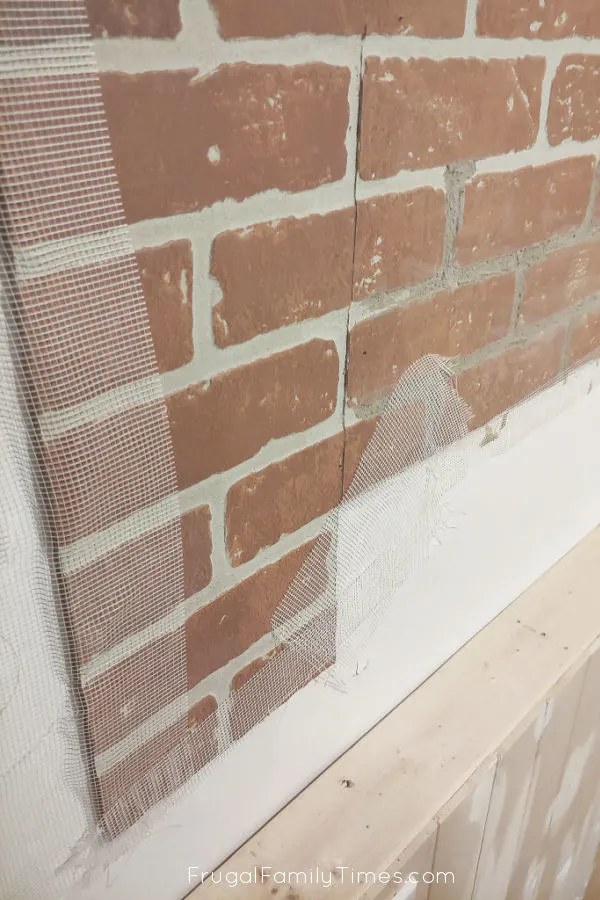 Step 4: Cover Gaps with Skim Coat Cement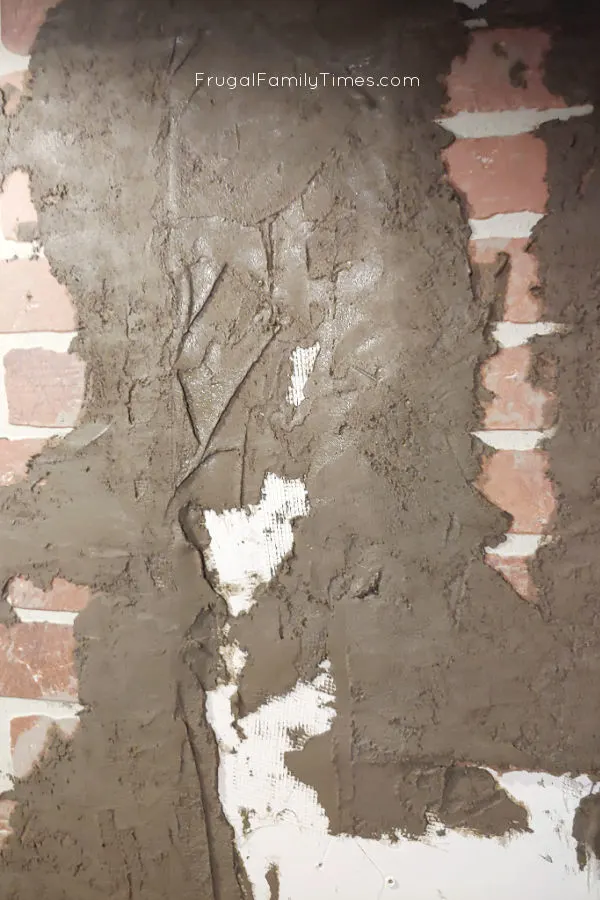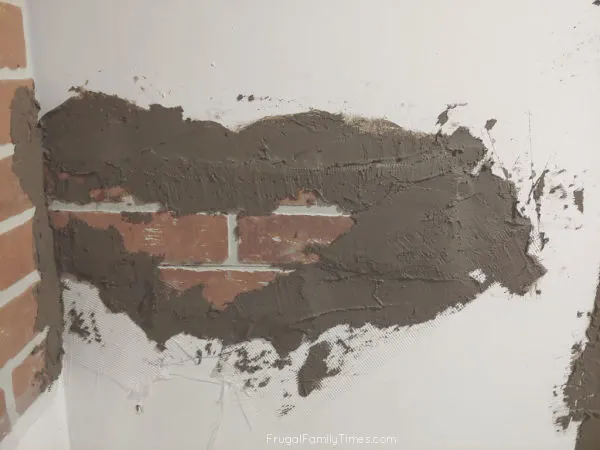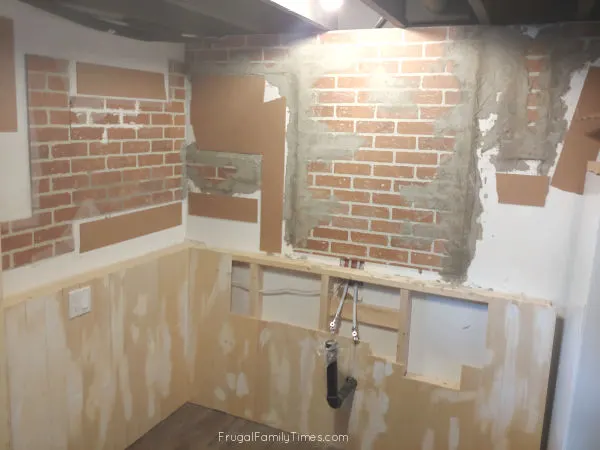 Step 5: Apply Drywall Compound Around Brick Paneling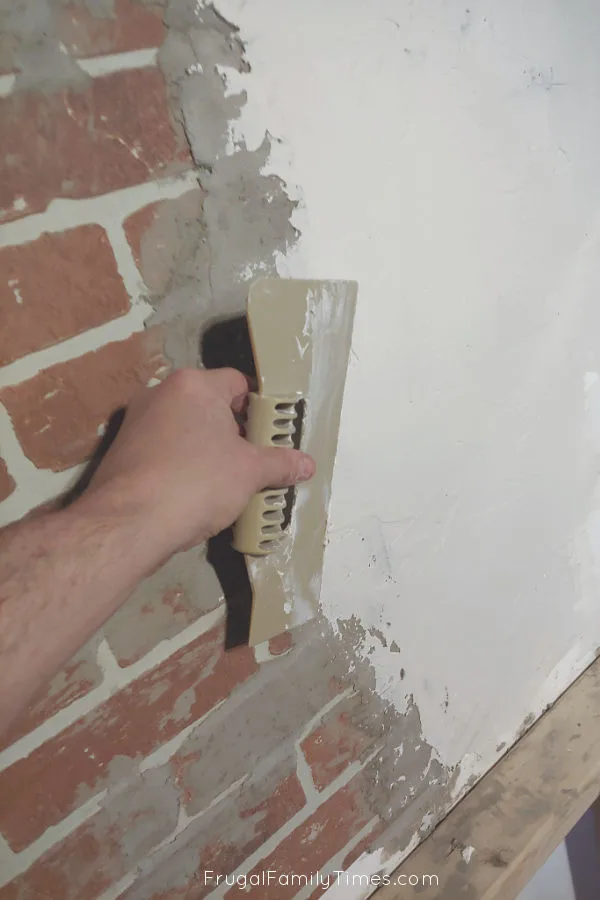 Step 6: Smooth and blend to the Rest of the Walls.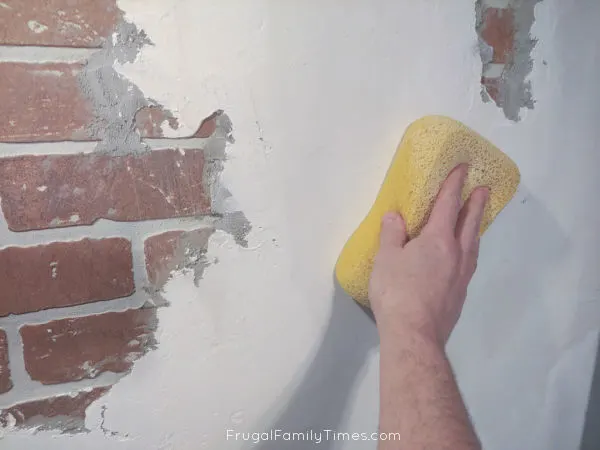 Step 7: THE KEY of How to Make Fake Brick Look Real
And Your DIY Faux Brick Wall is done – and it looks so real!