We may earn a commission on purchases made after clicking links on this page.
Intro by Robin
In today's post, we're showing you how to make DIY floating shelves solid wood – including the brackets!
We didn't need to buy expensive extra brackets to hang our custom shelf – we made DIY floating shelf brackets ourselves – with our kids in fact! And it's more simple to do than you might think.
It's no secret that Ed loves beer. He loves to make it himself (here's his whole DIY Beer tutorial series.) And a big part of the design of this room was to celebrate his passion for beer.
For years he's been collecting growlers from craft breweries – local ones of course, but he's also started picking them up when we travel.
Until now, he didn't have a way to truly celebrate his collection.
From the start I knew we needed a shelf to display his growler stash – and what more perfect place than our modern rustic DIY basement wet bar?
And while we were making the shelf, Ed came up with the genius idea to make deer antler 'brackets' for underneath! They don't hold the weight of the shelf – it's still a floating shelf – they are purely for the purpose of looking rustic and cool.
Plus there's a bit more: the antlers are a loving nod to Ed's late father, who spent years roaming their country property collecting discarded antlers. The man loved beer too – so it's a pretty perfect tribute.
The other unique thing about our floating shelf is that we made it all from wood. We didn't need to buy expensive metal floating shelf brackets! We simply used a couple of dollars worth of wood dowel instead.
Total cost of this shelf was less than $20!
Keep reading for Ed's how -to!
Steps by Ed
After Robin came up with the idea for this floating shelf – I got started figuring out how to build it.
Full props to Glen Scott and his DIY Creators channel/site for the awesome how-to video that inspired our project. We knew that someone out there would have ideas about how to do this and he was the guy. If you are looking for someone to follow (other than us, of course), he is a great choice.
DIY Floating Shelf (Solid Wood) Materials:
2″x 6″x 8′ stock for the shelf (we used clear pine, but cedar or other lighter wood would work too)
1/2″ dowel – 2-3′ length
wood glue
Wood Screws (at least 2-1/2 – 3″ long to secure shelf to the wall)
Stain or wood finish of your choice (here's our DIY Wood Stain how-to)
Optional – Deer antlers and 1/2″-3/4″ plumbing copper strapping
Steps: DIY Floating Shelves Solid Wood
Step 1: Cut your dowel supports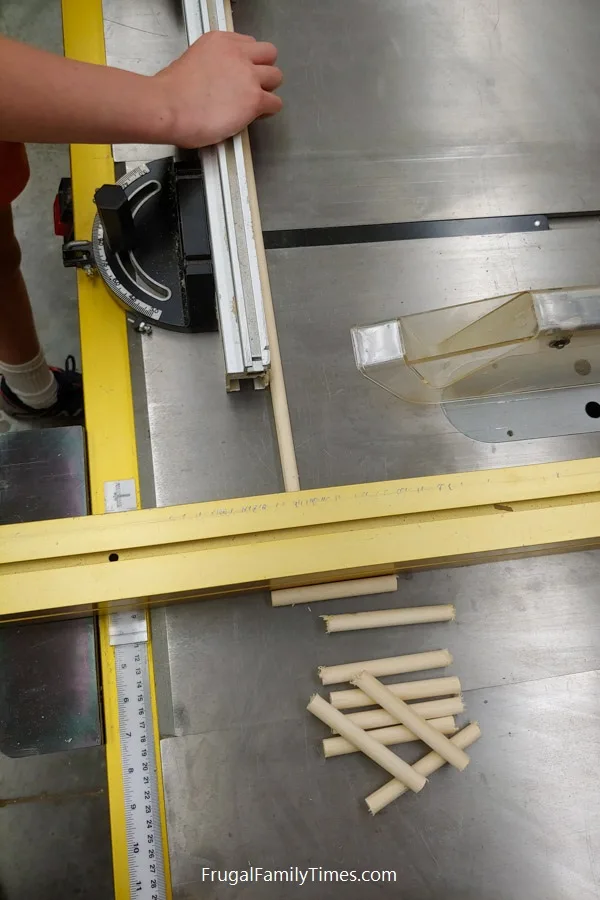 Step 2: Mark your support "bracket" holes and drill them
Step 3: Cut back off of the shelf to create mounting bracket
Step 4: Insert dowels into mounting bracket
Step 5: Dry fit shelf together and sand
Step 7: Nail any loose dowels in place
Step 8: Apply finish to your shelf
Step 9: Mount shelf to wall
Of course, you can stop there, but…
Optional: How to Make Antler Shelf Brackets: