We may earn a commission on purchases made after clicking links on this page.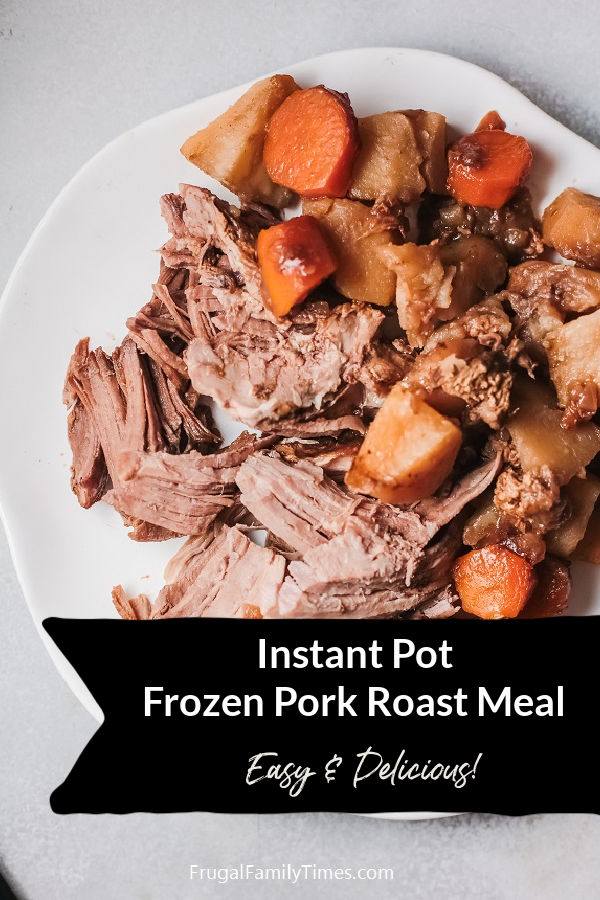 by Ed
I really enjoy hearty "meat and potatoes"-type meal on a winter night. When you can do it all in one pot, right from the freezer- like this Instant Pot frozen pork roast- then you are checking a lot of boxes for me.
Thawing a large roast can take a couple of days in the fridge, and even if you meal plan (like we do) you might still forget to get it out in time.
Who needs that hassle?!
Enter our friend, ally and my secret crush the Instant Pot and its ability to take a solid block of meat-ice and transform it into a tender and moist, fully cooked roast in record time.
Added bonus – veggies go in towards the end giving you a complete dinner with minimal mess, planning or effort. What is not to like?
Come here Instant Pot… I want to hold you in my arms and never let go. Ouch! You're still hot!
Instant Pot Frozen Pork Roast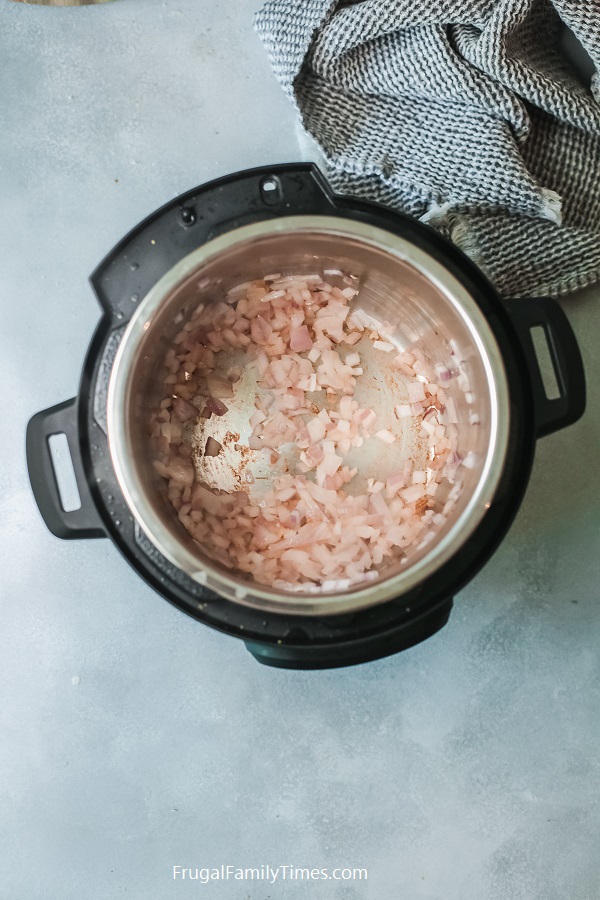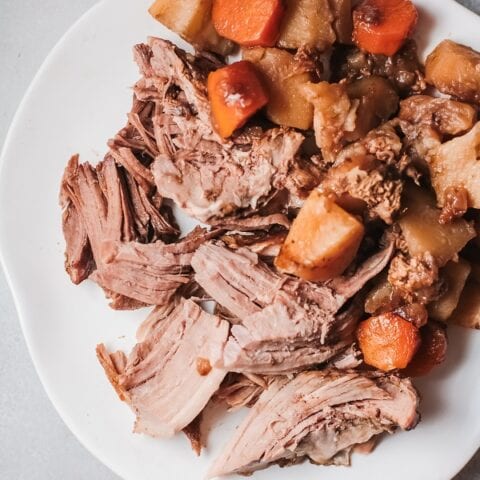 Instant Pot Frozen Pork Roast Meal
Cook Time:
1 hour
25 minutes
Additional Time:
4 minutes
Total Time:
1 hour
39 minutes
Ingredients
2 Tbsp olive oil
1 Red onion, chopped
2 1/2 lbs Pork shoulder, frozen
2 Tbsp brown sugar
1/2 Tsp garlic powder
1 Tsp dried thyme
1 Tsp dried oregano
1/2 Tsp dried rosemary
Salt and pepper to taste
1/2 Cup stock
2 Potatoes, diced
2 Carrots, roughly chopped
1/2 Cup red wine
1/3 Cup balsamic vinegar
2 Tbsp cornstarch
1 Tbsp water
Instructions
Set the Instant Pot on the saute setting. Heat the olive oil
and sautee the onion until transparent.
Add the frozen pork shoulder, brown sugar, garlic powder, dried thyme, dried oregano, rosemary and salt and pepper. Pour the stock and close the lid and valve.
Set on high pressure for 40 minutes. Naturally release steam, open the valve and lid.
Add the potatoes and carrots and close the lid and valve again.
Set on high pressure for 10 minutes. Naturally release steam and open the valve and lid.
Set on sautee again. Pour the wine and balsamic vinegar and cook for 15 minutes or until the wine has reduced.
In a small bowl combine the water and cornstarch and pour the slurry into the Instant Pot, stir to combine and cook until thickened, around 4minutes.