We may earn a commission on purchases made after clicking links on this page.
Intro by Robin Steps by Ed
When we embarked on our basement makeover we knew that our Basement Media Room would absolutely need a source of heat – basements can get so cold in winter! And what's prettier than a fireplace? Early on we decided that we would figure out how build a faux fireplace for this room.
Why choose an electric fireplace? And why build a DIY corner fireplace?
We toyed with the idea of getting a gas insert installed. They can be so beautiful and instantly warm with a button.
This idea didn't last long – the cost for one thing, but mainly the problem was the venting for the gas unit.
The walls we needed the fireplace to go one are below our big front porch. Not a great place for a heat vent! The only wall with venting potential was the only wall with a window (remember how we made that basement window look bigger with old bifolds? If you haven't seen it – you must check it out!)
So that left us with an electric fireplace.
We knew we'd want to build the mantle and fireplace surround ourselves. Because you know we love to build stuff, but also because then we could absolutely customize it to our weirdly shaped space.
We found and purchased an electric fireplace insert (this one is similar) that gave a flickering flame effect that we found quite realistic. (Ours is no longer available but this one gets great reviews).
A corner fireplace?! What were you thinking!?
As you can see in the photo above – we put the fireplace in the corner. That wasn't my original plan at all!
Our original plan was to build a fireplace into the centre of our built-in entertainment center DIY. But, as I began to live with the idea in my mind I liked it less and less.
It felt like would be way too much going on in one small area – not doing the TV or the fireplace feature enough justice. (Especially when our hidden TV cabinet turned out so well! That baby needs space to shine!)
One day we dragged the fireplace unit into the corner while we worked. And I had a big lightbulb sort of moment. We didn't have anything great planned for this small corner – and it can be viewed from the media room (well, duh) and from our future Hobby Room Pub. Win!
I was still a bit reluctant though. I had a pretty ignorant bias against corner fireplaces. I thought they looked weird and awkward – I was so wrong!
Yeah, but how do you make a DIY corner fireplace look good?
After scrolling Pinterest for corner fireplace ideas, I figured out what makes a corner fireplace look best.
In my opinion, the awkward-looking part of the fireplace in the corner is, well, the corner. When the walls above the fireplace meet in the corner it creates a big, empty, triangular space that's tricky to make look good.
So below, you'll see how we worked around that.
Our faux brick German schmear brick treatment…
We've used faux brick paneling in our basement a few times now. We can't seem to help ourselves. Previously, each time we used Ed's method for how to hide seams in brick paneling and also we painted it.
We wanted a brick faux fireplace, but we didn't want to do the exact same thing again. Enter the German schmear technique – it turned out pretty darn great and was quite easy!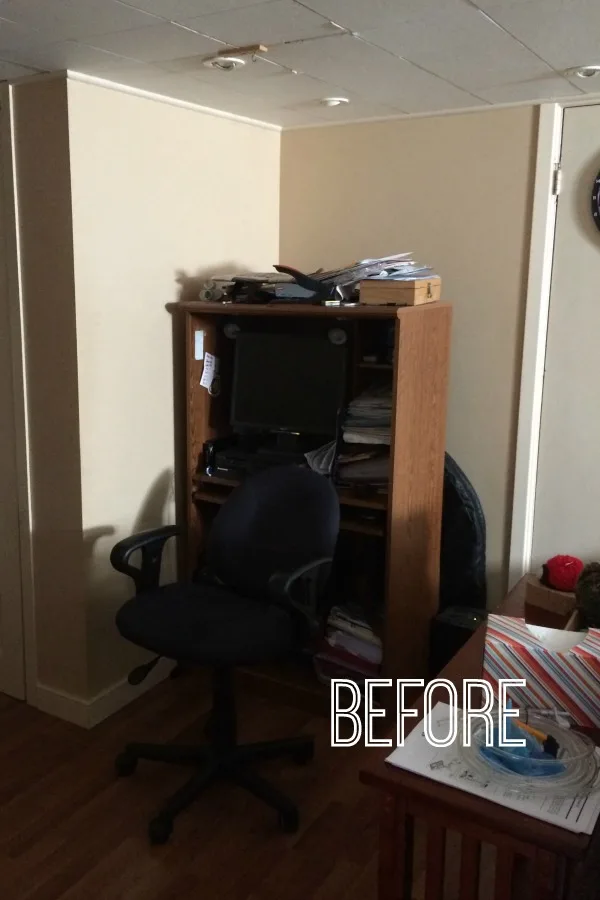 How to Build a Faux Fireplace in a Corner (with German Schmear Brick treatment)
Faux Fireplace Materials:
1×8 pine (for mantel)
2x4s and 2x6s
screws, nails and nailer (we love this cordless one)
drywall compound, scraper, sandpaper
How to Build a DIY Corner Fireplace:
Steps by Ed
Step 1: Build the Electric Fireplace Insert Box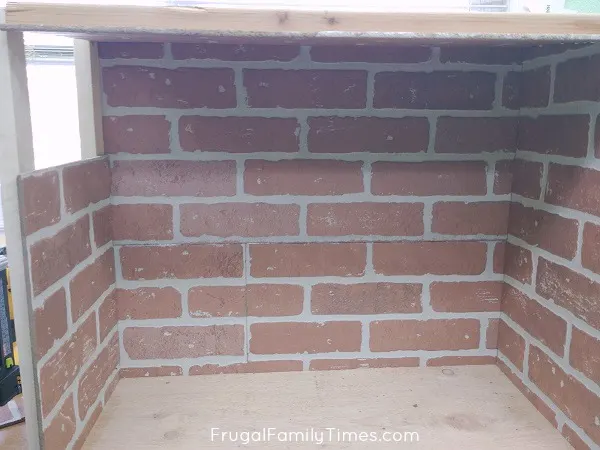 Step 2: Build the Faux Fireplace Base
Step 3: Build the Fake Fireplace Surround
Step 4: Attach the Faux Brick to the Fireplace
Step 5: Cover the Faux Bricks with German Schmear
How to German schmear:
First, you'll want to cover a lot more of the panel than when you're just hiding seams.
We've found that just having a few bits of red brick peeking through are enough for the effect.
You'll also need to sand it a bit to knock off the occasional compound peak. After sanding, wipe it down with a wet cloth and you're done – no painting required!
Secondly, I did a solid coat of drywall compound on both the firebox base and the mantle 'baseboard' to create the effect of them being solid cement.
It was waaaaay easier than regular drywall as you don't need to get anything smooth.
6. Build the Faux Reclaimed Wood Mantle
Step 7: Cover the Corner Fireplace Frame
Step 8: Cover the top of the wall with vertical shiplap
Vertical shiplap is great to add the illusion of height to a basement (or any space).
We decided to use our own vertical shiplap tutorial to add interest over the mantle and alongside our faux fireplace. It ties in so nicely with the hollow core door makeover we did right next to it, too!