We may earn a commission on purchases made after clicking links on this page.
Intro by Robin; Steps by Ed
Our tongue and groove cedar ceiling plank project turned out even better than I hoped! We went from wondering "Can you use cedar planks for ceiling?" to a finished beautiful wood bathroom ceiling in less than a day!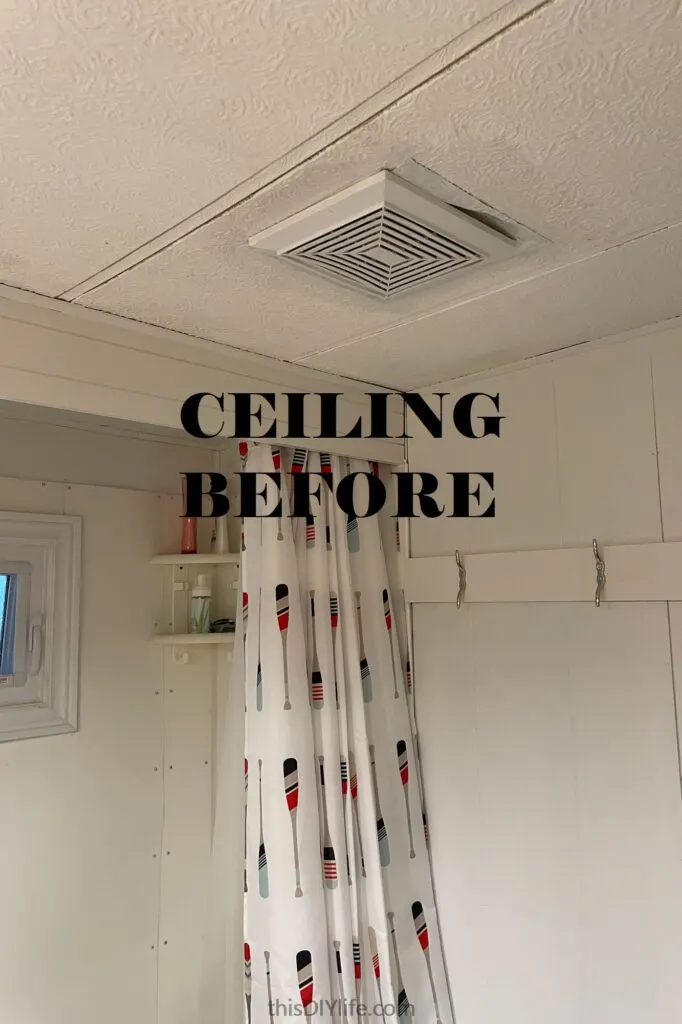 I had big hopes for our bathroom cedar tongue and groove ceiling, maybe too many? NOPE – it delivered on all my hopes! Our DIY cedar ceiling had to solve a bunch of problems in the bathroom of our weekend place (aka our Mobile Home Makeover).
Why tongue and groove cedar ceiling planks are a great bathroom ceiling idea:
It looks so good!

It gave our bathroom a natural, minimal, Scandi spa vibe. The wood on the ceiling was just what the room needed.

A cedar plank ceiling covers problems.

This ceiling idea would be great to cover a popcorn ceiling!
It would also be a great basement ceiling – you could just nail it to the ceiling joists. (We've added it to our collection of basement ceiling ideas!)

That wasn't our problem though. Our ceiling had nothing going for it. It was a 70's mobile home special made of textured cardboard-like panels with plastic ribs running along it. We painted it a fresh white, which helped it- to a point.
The previous owners let water come down the exhaust venting. So the ceiling around it was damaged, as you can see below.

It's a pretty easy DIY project.

It can be rare for a project to go smoothly from start to finish, and take less time than we expect. This one did!
It doesn't need a finish. Less work!

It's pretty affordable.

It's not one of our most cheap ceiling ideas, but it's not our most expensive either. This one cost less than $200 for the whole room. (And that's in Canadian dollars – it would be even cheaper in the US. 😒)

It smells great!

There's a reason so many grandmas have cedar chests to keep their treasures – cedar is great for preventing bad smells (and protecting from moths).
This feature is great for us in the mobile home – we're always looking for how to get rid of musty smells – because old closed-up places like cabins and cottages can get musty. (Solutions to musty smells here!)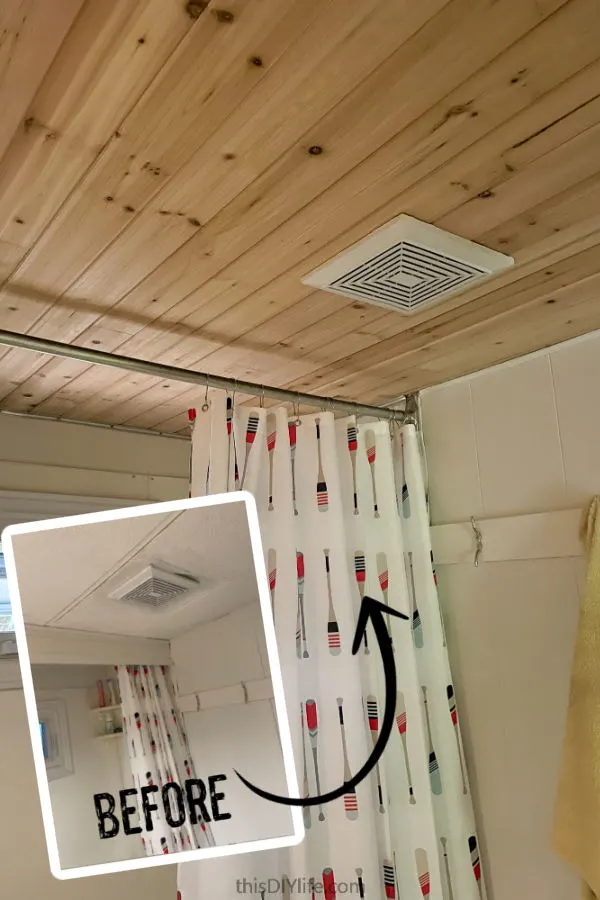 Do you need to seal cedar ceiling?
No! In fact, it's best if you don't. Cedar is water and rot resistant – that's why you can use it to build decks and other outdoor projects (like our DIY giant outdoor Jenga game!)
By NOT sealing or painting the cedar ceiling planks, you let it give off its gorgeous natural smell! It gets better with every steamy shower.
If your plan is to paint your ceiling, save yourself some money and do it with pine instead: we have a whole tutorial on installing tongue and groove ceiling (also a pretty easy DIY!)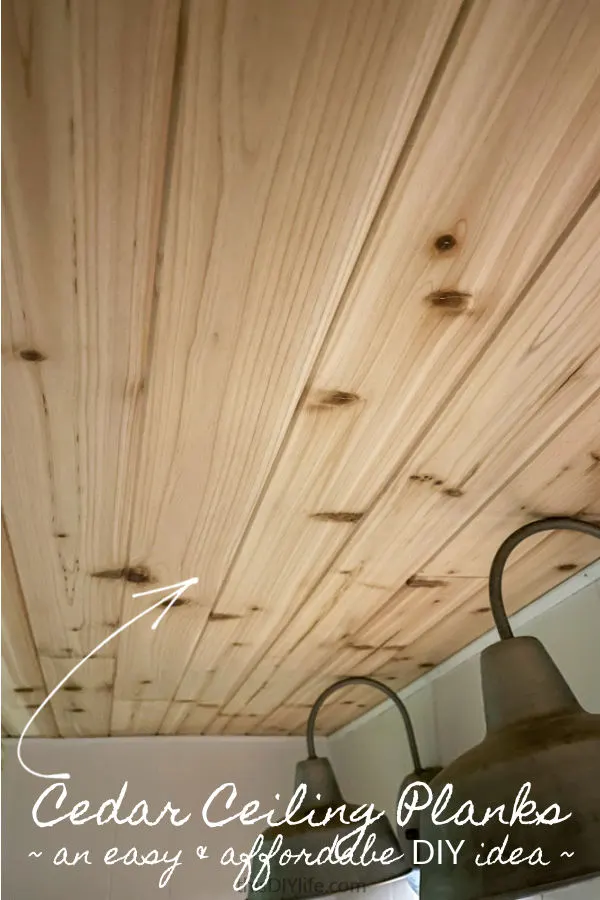 What cedar tongue and groove ceiling cost:
It depends of course on a lot of factors, including the size of your room and where you're located.
Our ceiling took three bundles of tongue and groove cedar ceiling planks and each bundle was about $52 (Canadian dollars). A bundle covers 15 square feet. Add on the other needed supplies (see below) and our total for this cedar bathroom ceiling was about $170.
Now, were we to be in the US, similar bundles are less than $38 – so the US total would be closer to $130.
Cedar tongue and groove ceiling supplies:
tongue and groove cedar wainscotting planks
tub surround adhesive (we used two tubes)
nails
black permanent marker
trim (or reuse old trim, like we did)
How do you hang tongue and groove cedar on a ceiling?